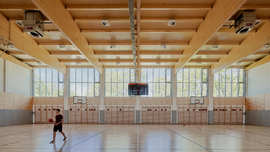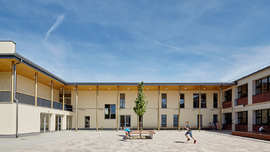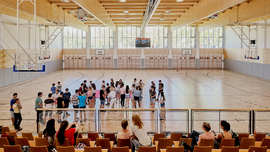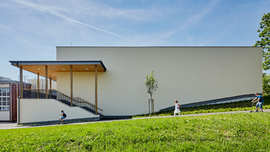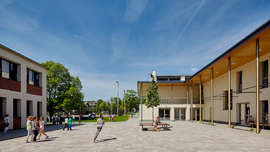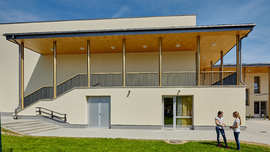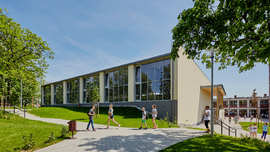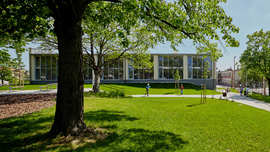 Balatonfüred Gymnasium of Radnóti Miklós Elementary School
2017, Balatonfüred

Based on an analysis of the investor's vision for the development, and the characteristics of the existing building site and the building, we have come to the conclusion that the northern wing of the school building would be pulled down to the limit of the existing small gym where the connecting new gym wing would be attached.
Linked to the primary school, now without a properly sized gym, we have designed a large open-plan 8m high building with a regular basketball court, adding a 299-seat stand with direct access to the court. It was an important aspect to make the building's space organization clear-cut and straightforward. The volume of the planned new gym was determined by the horizontal and vertical dimensions of the basketball court. The facade was fitted with insulated Kingspan panels. Its color was determined by a bright white color that matched with the existing building. The supporting large span steel structure is visible in the interior.
We refined the volume of the exterior facade with a roof running along the new expansion. The columns of the roof are made of steel with a wooden insert, complete with a fixed awning structure. In time, it will be covered with creeping ivy.
When creating the design, cost-effectiveness and low operating costs were assessed over the lifetime of the building (we designed durable but low maintenance materials and structures, energy saving systems and equipment).
Energy-conscious aspects have also played a role in determining the orientation of the building: windows are oriented towards the north, providing evenly diffused light (with less need to turn on the lamps). The semi-sunken mass will result in a smaller cooling surface. By the possibility of opening the windows on the side facade and on the roof, the space can be ventilated by gravity ventilation, without the need for mechanical systems. In the interior, noise pollution was reduced by the use of acoustic wall cladding.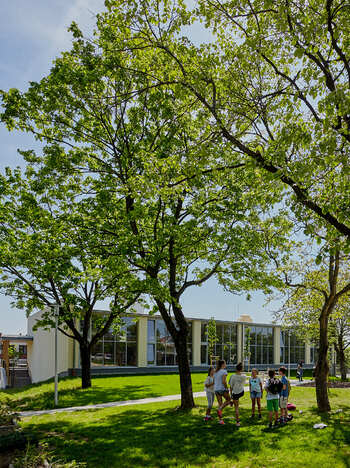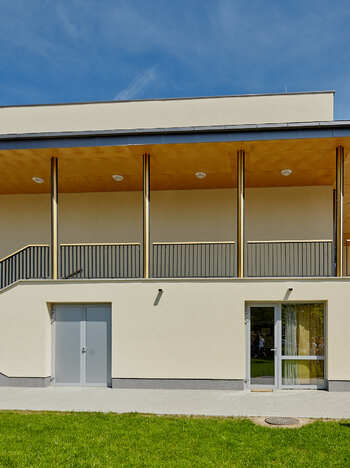 Publications:
https://www.youtube.com/watch?v=y6i8ah7Vaac
https://index.hu/mindekozben/poszt/2018/08/08/zsenialis_queen-feldolgozassal_lepte_meg_a_vilagot_az_altalanos_iskolas_kosarlabdacsapat/