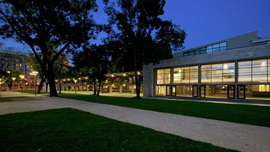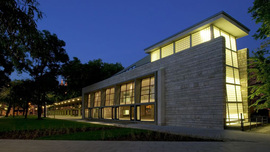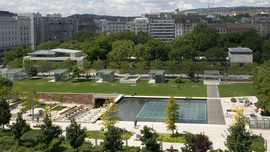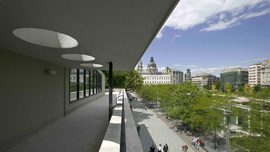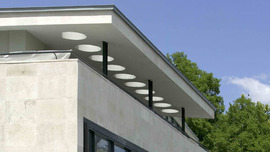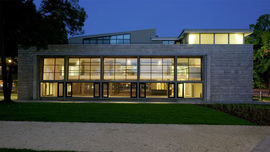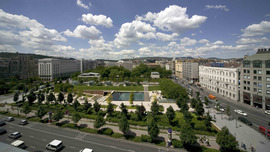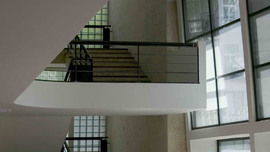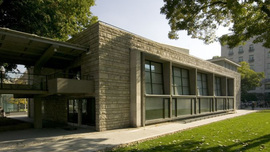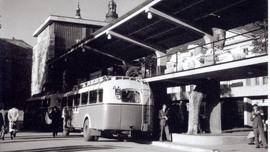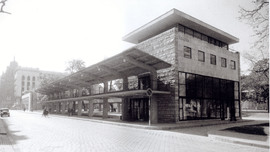 Design Terminal
2005-2018, Budapest, Erzsébet tér

HUNGARIAN DESIGN CENTER / DESIGN TERMINAL BUDAPEST
Redesigning the long-distance bus terminal
Budapest, Erzsébet Square
National competition: 1st prize
Year of competition: 2005
Planning: in two phases: 2005-2006; 2013
Implementation: in two phases: 2006-2010; 2013-2014
The 21st century Hungarian design center was set to be moved into a building complex, built in 1949, that served for a long time as a long-distance bus departure and arrival station, with substantial passenger volume. The bus station, located in Erzsébet Square of downtown Budapest, is considered by Hungarian architectural history as one of the latest, most outstanding and iconic creations of modernism and functionalist architecture. It was built in just eight months by the architect István Nyíri. The building consisted of two blocks of different sizes (departure and arrival halls) and a two-story platform bridge (baggage platform) connecting them.
The building had been remodeled and stood empty for a long time but still retained its original character when we started the planning after winning the design competition launched for its transformation into the Hungarian Design Center (subsequently Design Terminal) in 2005. On the ground floor of the main building (departure hall), the larger of the two, we designed a multifunctional, flexible installation and exhibition space, equipped with a special lighting system, with an extension to the loft balcony upstairs. In our design, the indoor exhibition space continued outside, on the luggage platform as an open-air covered gallery. Below, on street level, the former platform became also suitable for exhibitions, and, in addition, this area served as the departure point for the round-trip buses showing the important design spots of Budapest. On the ground floor of the smaller building, the former arrival hall was converted into a restaurant, while on its connecting balcony a café and a confectionery with a terrace was designed. We placed the offices of the institution and an impressive meeting room to the first floor.
In spite of the refurbishment, the Hungarian Design Center started to operate in the building years later and only partially. In the meantime, due to the rapid appreciation of the site and its immediate environment, minor technical changes were made in 2013: the ground floor glass walls of the main facade of the larger building, now serving as a restaurant, were redesigned with the possibility to be opened, and the ground floor glass structure of the smaller building was similarly redesigned.