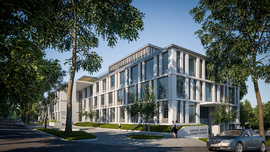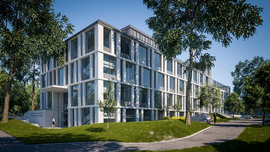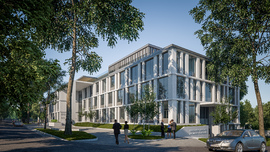 New Building for the Kaposvár-based units of the Prosecution Office
2016-2019, 7400 Kaposvár, Gr. Apponyi Albert u. 16

ADAPTATION TO THE ENVIRONMENT
In order to break down the large scale of the new building complex in a natural way, we refined the facades and the volume of the building, in line with the structure of the site. The southern facade, facing the space framed by the building blocks, will overlook a well-tended park.
In order to reflect and adapt to the architectural context of the other side of Gr. Apponyi Albert Street, we designed a modular, vertically lined facade architecture in a light shade by using large concrete shell elements.
ARCHITECTURAL CONCEPT
Three units of the Prosecution Office operate in Kaposvár. Kaposvár District and Investigative Prosecution Office has the highest case number and customer turnover, with the largest staff. The official and professional supervision of the unit is overseen by the Somogy County Chief Prosecution Office and its lead, the Chief Prosecutor. The collaboration of the two organizational units requires day-to-day contact, which must be ensured by the building's office structure as well.
The Central Chief Prosecution Office of Investigation - Kaposvár Regional Department is an organizational unit with regional competence, independent of the county and district organizational units.
It was required by the client that "the new prosecution headquarters, which deploys all the prosecution units of the county seat, reflects trust in the institution by opening up to the city. The volume of the new building and its articulation must form a balanced, harmonious unit. Instead of a sense of self-serving asymmetry that implies instability, it is expected that various parts of the new building and the materials used are designed in a disciplined system".
Tradition:
REPRESENTATION - ORDER - SECURITY
The old "judicial palaces" have traditionally been characterized by harmonious volume composition, the use of high-quality building materials, sophisticated workmanship and a disciplined facade structure. At the end of the 19th century, the court buildings of the city centers still reflected order and stability to the local population. At the same time, the era of the uniform, industrialized architecture of the mid-20th century run out fast. The noble architecture, rooted in tradition and reflecting local context, nevertheless, must be renewed and adapted to the needs and expectations of the 21st century.
Renewed image:
TRANSPARENCY AND PROPORTIONS - CUSTOMER FRIENDLY ENVIRONMENT - SUSTAINABILITY
The legacy of tradition and the renewed image are strengthened in their combination, complementing one another. The requirements of relaying a positive message to the public for the future, and being a part of the small town environment must be met simultaneously. Order must be synchronized with transparency; the space requirements of different organizations with the visual balance of the new building's volumes; office functionality with an employee and customer-friendly interior design and design in general; and emblematic style with economical implementation and operation.
Green environment:
An important aspect of the design was to keep the existing tree stock unharmed as much as possible, therefore the area of ​​the underground parking was reduced to the minimum.