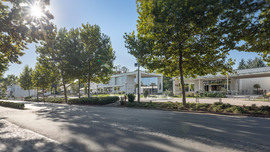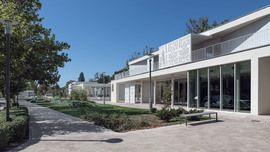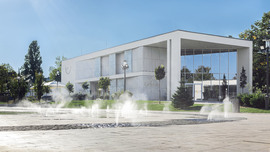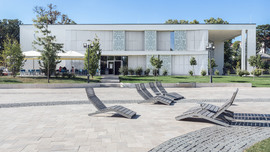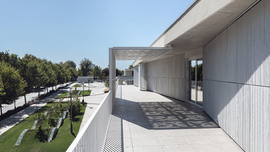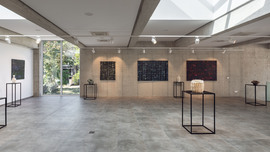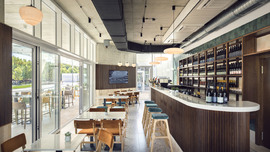 Balatonfüred
2018-2019, Balatonfüred Zákonyi promenade

Balatonfüred, Lake Balaton's Public Building, winner of the 2003 prize
The row of pavillions on Zákonyi Walk, outstanding within the public building category, is in a fortunate position concerning this identity search. A major feature of Balatonfüred is its neoclassic tint with roots in the Hungarian reform era (early XIX. century). This bath-resort milieu of villas might be even more basic within our Balatonfüred notions than the city's symbiosis with Lake Balaton. There was no shortage of historic clues then, when the linking of a far from historic utility (subterranian parking lot) to its above-ground facilities was to be solved in space and mass (i.e. architectural) terms.
Which is not to say that the architectural response could be unequivocal and predictable. Because, if properly fitting a building into its ambience is quite hard a task, it is ever so much harder in the case of an urban public space serving commercial, cultural, catering needs. The multifunctional buildings of Zákonyi Walk managed to avoid both of the obvious hazards: to assume a large, overambitious urban scale or to become a corny and with time uncontrollable row of booth-architecture. So what really is the outcome? Elegant, breezy, comprehensible. Functional in a simple way, yet friendly buildings. Villa-like in scale and in their refinement of details, yet also unmistakably Lake Balaton style with their airiness and the playfulness of light and shade on the elevations.
A succesful blend of modernism and contemporary internationalism, in spite of, or in accordance with, good quality, exemplary in architectural merits and in the uniqueness of content.
Substance and style equal each other: high quality architecture harmonizing well with the functional content (art galleries), in happy contrast to the commercial facilities across the square.
And if some sense of lack remains because of greeneries, it can be explained away by the fact that this's been about the humanization of a public space over an underground garage. Which humanization will hopefully be further enhanced by the future growth of vegetation.