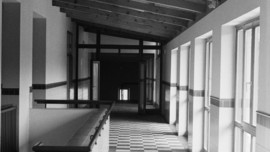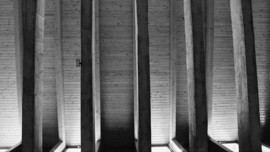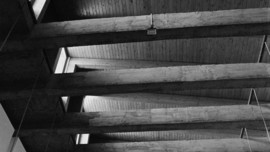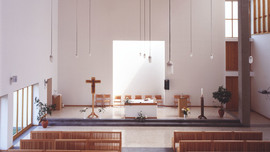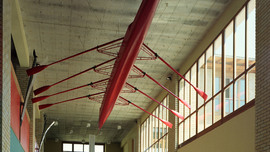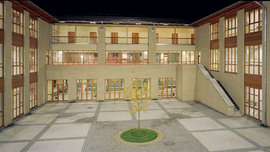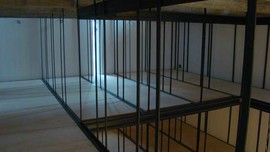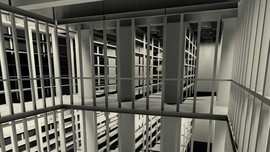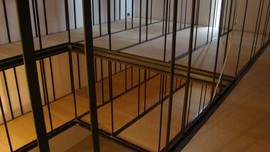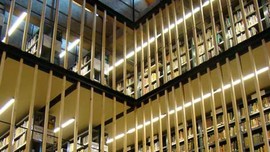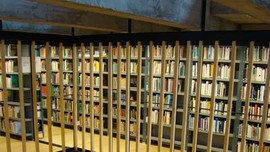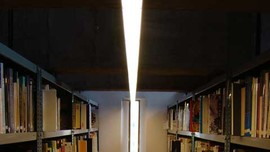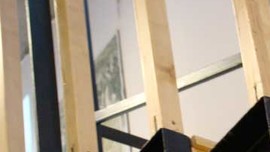 Szeged Piarist High School Monastery Church
1996–1997(Design), 1997–19 (Implementation) , Szeged, Bálint Sándor u. 12.

SZEGED PIARIST HIGH SCHOOL, DORMITORY AND CHURCH
As after 1990 the Piarists could not reclaim their former grand school building in Szeged, they decided on building a new school in a housing estate. As the winner of a restricted tender, we made plans for the development in several phases: so far, the six-grade high school, the gymnasium, the dormitory, the monastery, the church and the open-air sports grounds have been built, but there is room for further expansion in the three-acre area. The architectural intentions are to take gradual possession of the site, and create articulate and well-functioning spaces for the community members - students and teachers, Piarist friars and civilians alike - by traditional space organization and the elaboration of the inner aesthetic logic of building structures.
The school wing of the high school was organized around a three-story cloister yard. On the ground floor, we designed science lecture rooms, equipment storage and labs. On the first and second floors, twelve general and another twelve specialized classrooms were placed. In the east there is physics, in the south biology, and in the west chemistry: the cardinal directions are marked by a sundial on the southern facade of the chapel. On the ground floor of the northern wing we placed a heating kitchen serving 400, upstairs are the headmaster's and teachers' offices, while on the second floor we designed a theater for an audience of 200.
The wings all have separate staircases, which helps increasing the choices of traffic directions and free movement in the building: traffic is reduced, and undesired encounters can be avoided. We designed substantial individual spaces and groups of rooms on each floor: a club-cafe, cafeteria, gymnasium and a library on the ground floor; a boardroom, a large teachers' office, an art room and a chapel on the first floor; and a music room and stage on the second. The 45 by 21-meter gym can be divided into three spaces by curtains; in addition, there is a stand for 150 and we also added a training room to the sports facilities. In the summer, the outdoor courtyard may also serve as a stage with terraces. The bridge, linking the high school to the dormitory and monastery building, is accessed from the northeastern corner of the lobby. The ground floor and the first floor of the east-facing wing contains dormitory rooms for 4-6-8 students, as well as community rooms. On the second floor and in the loft we designed split-level monastic dwellings, a dining room and a reading room. On the site in front of the dormitory, the 400-seat Piarist church and the sacristy wing were built. At the back, a green lawn athletics track was built, with a 200-meter rubber running track and an asphalt-coated outdoor football pitch.