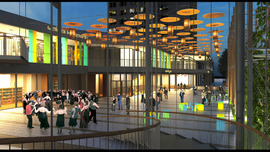 Renovation of the Spiral Human Community House, Ujpalota
2013 (Design) , 2014–2015 (Implementation), Budapest, Zsókavár utca
Community House
In the center of Újpalota housing estate, at the intersection of Zsókavár Street, architect Ferenc Callmayer (of the former Planning and Modular Design Institute), an Ybl Prize recipient, designed a steel-framed, elevated, one-story service center, together with a twelve-story residential tower, built in 1974. According to the original urban design plans, the building complex would have been linked to the future urban center (with a shopping center, a theater, and a library, none were built) on the opposite side of Zsókavár Street by a pedestrian bridge. A spiral-shaped steel and reinforced concrete ramp led from street level to the service center building; we preserved the building and the project was named after the ramp.
The purpose of the renovation was to strengthen the urban center and community functions, and to create a human service center that would assist inhabitants in their daily lives. The project aimed to create a friendly, transparent and user-friendly environment and community space in the center of the housing estate, where services of social, mental and lifestyle development and counseling could be concentrated. We were thinking of Spiral House as the center of a caring community city: we designed an event space in the front, hosting both spontaneous and organized programs for people of all ages in all seasons, any time of the day.
The architectural character was determined by a 'green house' approach, the green protective wall along the road, the lamella system of the outdoor hallway upstairs, and the redesigned facade of the neighboring medical practice. Despite its torso character, the south-western terraced facade of the service center and the remodeled spiral ramp with its perforated cylindrical shape is a strong point of reference for the area. The elevator, ensuring accessibility, and the new ramp reflect on the memory of the old one, but recreates it for the 21st century: on the one hand, it connects to the new event space and, on the other, provides a fitting access to the human social services upstairs. On the street level shops, a restaurant, a pharmacy, a bank, and upstairs a family and youth center, a district library and other community service units were added.