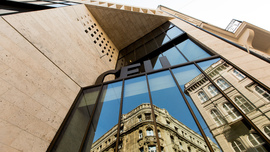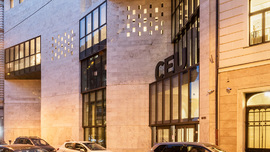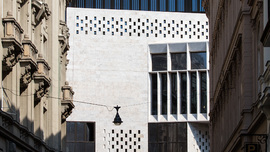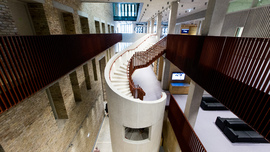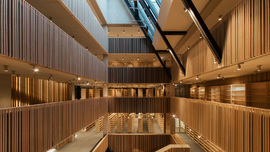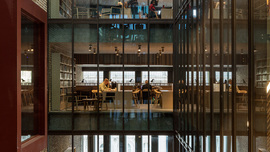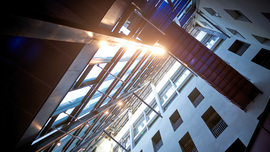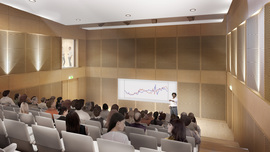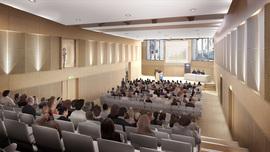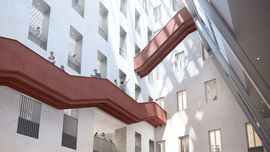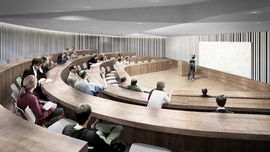 Central European University (CEU)
2011-2016, Budapest
Lead Designer: O'Donnell + Tuomey Ltd. Hungarian partner: M-Teampannon Kft.
The design work on the CEU campus development was done by Irish architects Sheila O'Donnell és John Tuomey, winners of the international architectural competition called on by CEU in 2011, and their Hungarian partner M-Teampannon Ltd. In the current, first stage of the three stage campus development the designers were charged with the refurbishment of the building at Nádor utca 13., a classicist style building designed in 1841 – its original, historical elevation and its inner spaces to be kept intact – and, with the design of a new building at the Nádor utca 15 –currently empty- site. Major sources of inspiration for the design concept of the Irish designers have been the typical courtyards and cantilevered access passages of tenement buildings erected at the turn of the 19-20th century, as well as urban research concerning the period, with studies exploring the origin and evolvement of the deep courtyards. These typical imprints of the old city are perceivable at the inner courts of the project, that are linked to each other horizontally, vertically, even diagonally, as well as at the new breakthroughs and passages that have replaced the original, confusing, passages and inner dead-end roads with a clear, unambiguous communication system.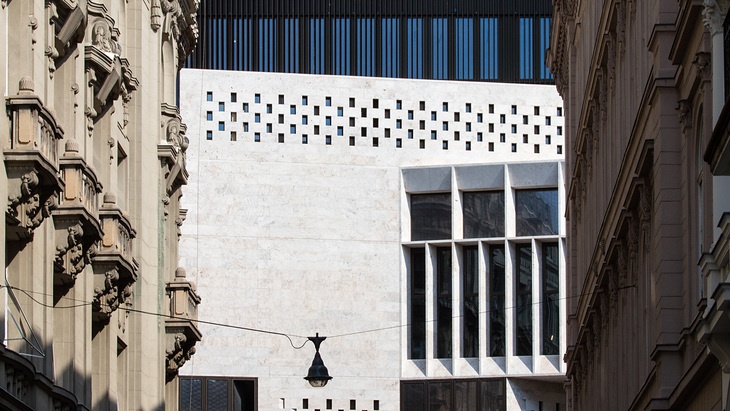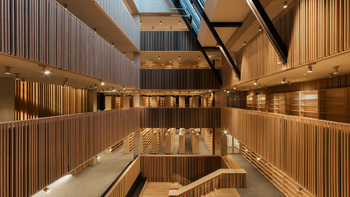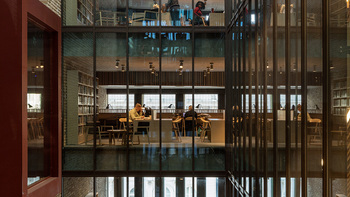 The architectural solutions also -kind of- respond to the question of how it is possible to bring about in an existing ambience - while preserving its character - a built environment for an entirely different purpose, to bring about an unheard of richness of spaces by an unusual gesture, by a metamorphosis: by changing inside into outside, by inner changing of the outsides, with breakthroughs and interconnections, by way of sophisticated space sculpting.
Beyond bringing about communication spaces and setting the inner architectural order of the new campus, the next major challenge was to integrate the future Nádor utca 15 building into the dense downtown urban fabric while retaining a contemporary approach. This integration has been achieved by the block-like ingredients of the elevations and by employing a lime-stone cladding that can be regarded as being classic. The scenic and panoramic roof garden can be used in its entirety as a leisure facility for the 1500 students of the university. Thanks to the comprehensive, environment conscious design approach, the design of new campus of CEU received a 'good plus' BREEAM qualification, thus being, among tertier education institutions, the first in Central and East Europe, and second on the whole of the continent, to have received this acknowledgement.